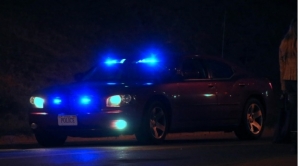 A battery suspect led Meridian Police on a high-speed car chase Tuesday night that ended in a crash after spike strips were used.
Derek Besse has been charged with one felony count of attempting to flee or elude a police officer. The 44-year-old also had three felony warrants out of Ada County for parole violations.
Tuesday evening a Meridian Police officer recognized Besse's white Dodge Ram pickup from a reported battery earlier in the day.
CBS 2 News reports when the officer tried to stop the truck near the Cherry Lane and Ten Mile intersection, the suspect drove off, reaching speeds of up to 80 mph. The driver then got onto I-84 westbound.
Near milepost 29 in Caldwell spike strips were used, which punctured one tire, and the truck left the freeway and crashed into a ditch.
Besse was taken into custody, visited the hospital for minor injuries, then booked into the Canyon County Jail.