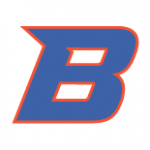 Boise State University, Central District Health and Ada County Paramedics held a mass COVID-19 vaccination clinic on Saturday at ExtraMile Arena.
Central District Health provided 881 doses of the vaccines during the clinic.
The clinic aimed to vaccinate students living on campus, but expanded eligibility to all students…not just those living on campus.
Vaccine appointments filled up within 48 hours of opening, as did the wait list.
Boise State nursing students volunteered to administer vaccines at the clinic