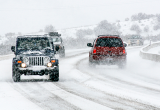 If you are wondering when we will possibly see more snow, you wont have to wait long.
The next weather maker is expected to arrive tonight, (Monday) as a cold front bringing some precipitation or rain and snow mix.
The mountain will be seeing the majority of that snowfall. Here in the valley we are likely to see about 1-2 inches of snow Tuesday morning.
A winter weather watch is in effect for many areas around the Treasure Valley, including south east Oregon, the Owyhee mountains, southern twin falls county and the western magic valley.